MEDIA LOVES TECH 2021
The MEDIA LOVES TECH 2021 competition runs from 1 June to 31 July 2021.
Participate on startup.medialovestech.com!
Stages of the competition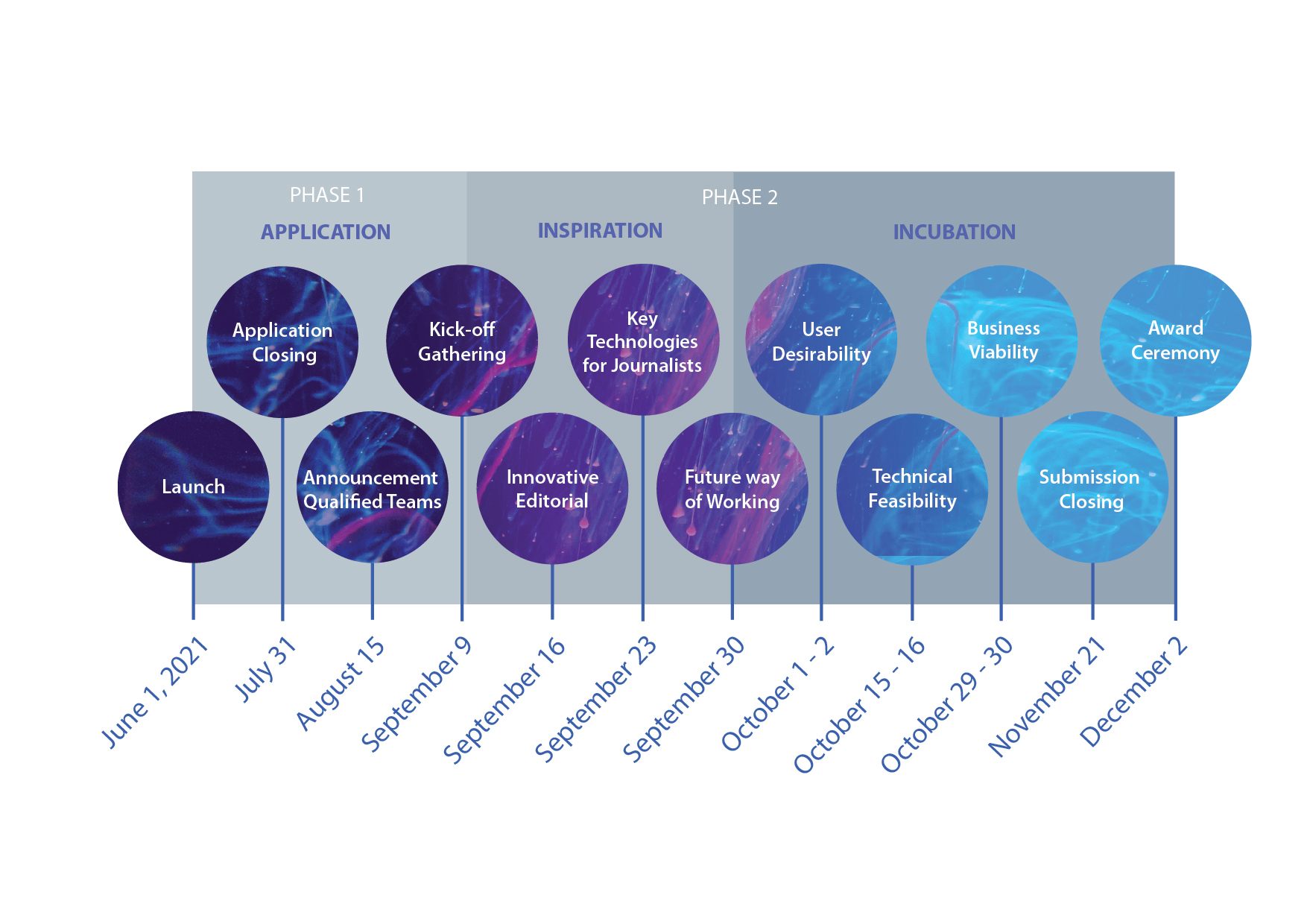 About the competition
MEDIA LOVES TECH seeks to identify the best digital concepts for innovative and quality journalism. Launched by DW Akademie, Germany's leading international media development organisation, this competition is open to journalists, startuppers, project leaders, creative people, developers, designers, civil society, any individual actor or organisation wishing to innovate for a quality media landscape in Tunisia, Morocco and Algeria.
The best digital innovation for the future of journalism in Tunisia will receive € 10,000.
MEDIA LOVES TECH is an initiative of DW Akademie in cooperation with Al Khatt in Tunisia. This project is funded by German cooperation, in particular by the German Ministry of International Cooperation.
Objective of the competition
The objective of MEDIA LOVES TECH is to identify and enable the implementation of effective solutions to the challenges and problems of the media and journalism in Tunisia, Morocco and Algeria.
To achieve this, MEDIA LOVES TECH is part of the new technological spirit of crowdsourcing, i.e. the collaboration of networked Internet users to generate services, ideas or content together. Crowdsourcing means crowd sourcing, a process of information sharing that stimulates the flow of ideas and creativity.
Themes of the competition
In general, MEDIA LOVES TECH seeks :
solutions to the problem of access to information
projects that facilitate the work of journalists and media (data processing/organisation/visualisation)
ideas that improve interaction with the public (tracking, audience measurement, engagement, feedback)
Science journalism
This year, MEDIA LOVES TECH is offering a special prize for projects working in the field of science journalism. The best proposals can win up to €5,000!
Citizen journalism – connecting with local communities:
Tools to reach specific audiences, tools to connect citizen journalists to the media in order to extend production and consumption capacity to new audience categories.
Checking content (fact-checking) / fighting against misinformation and fake news:
In a fragile political context, particularly in view of the upcoming elections, Tunisians have difficulty distinguishing information from misinformation. Comments are often shared without specifying the context, articles and reports often interpret the facts in an unspecified way, without considering the nuances.
Election coverage:
As parliamentary and presidential elections approach, the media will need tools to ensure quality coverage.
Datajournalism:
Develop tools and technologies that can help the media to analyze, process or visualize data.
Media viability:
Innovative tools to ensure the economic and financial viability of media projects.
Dialogue with public authorities:
Tools that contribute to greater transparency in public action and promote dialogue between citizens and political and economic decision-makers.
Information in times of crisis :
Tools contributing to the dissemination of information of public utility and the implementation of solutions for the general public in order to better face a crisis (health, environmental, economic or political).
What's to be gained?
MEDIA LOVES TECH will take place in two stages with the possibility, at each stage, to obtain financing and support to accelerate the development of your product. The selected concepts will also benefit from professional support.
Step 1:
Selection of the best concepts. Concepts can be submitted until the 31st of July 2021 (the precise date will be communicated shortly). The best concepts will receive €1,000 each.
Step 2:
These winning teams will participate the support programme which runs from September to November 2021 (inspiration phase in September, incubation phase in October-November). The best project will receive funding of €10,000 which will be presented to the winning team at the closing ceremony on 2 December 2021.
Who can participate?
The competition is open to creative people, journalists, media professionals, entrepreneurs, designers, developers, civil society, any individual or organization wishing to contribute, through a concept or by offering their skills, to the rise of journalism in Tunisia, Morocco and Algeria through digital technology. See also our Rules.
I have a great concept:
You are invited to submit your concept. If you already have a team, please indicate this when you register, otherwise indicate the skills you would need to complete your project. Among the other registered participants, those with the required skills will be assigned to your concept within the limits of available capacities.
I don't like working in a team, I prefer to participate all by myself:
MEDIA LOVES TECH is based on the spirit of collaboration and teamwork. And that is what we want to strengthen through this initiative. The participating teams must be composed of 2 to 5 people.
I have already participated, but I want to try again:
Entrepreneurship is about challenging yourself and starting over. If you have already participated in a previous edition, you have every right to try your luck again. With the same (improved!) project or with a different idea.
Rules
The complete rules of the 2021 edition can be found here.
In case of doubt, you can also consult the Frequently Asked Questions (FAQ). If you still have any questions at this stage, please do not hesitate to contact us.