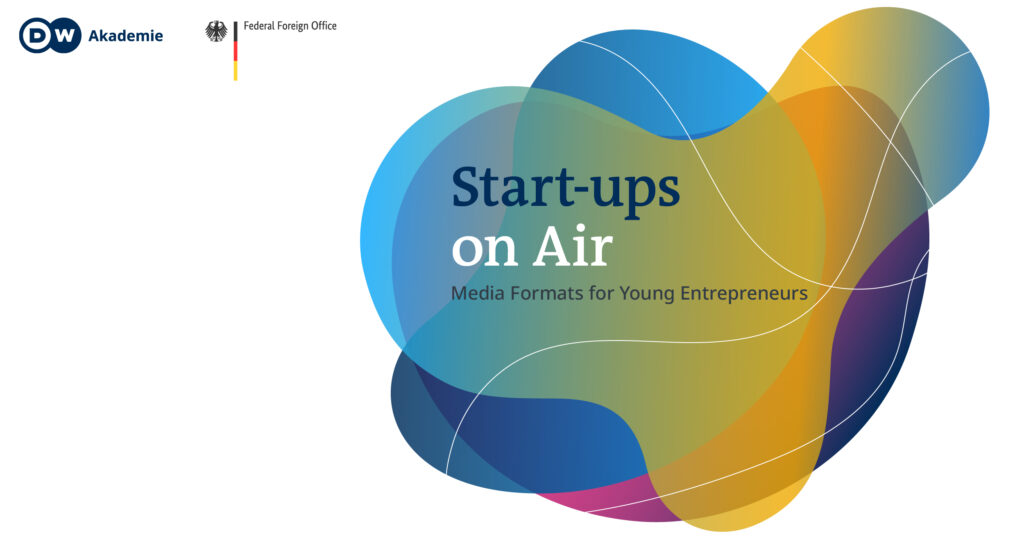 Creating Media Formats for Young Entrepreneurs in Jordan, Tunisia, Algeria and Lebanon
We believe that media can inspire and encourage young people to create what their societies need and to realize their dreams!
Registration is now open for journalists to apply for the competition "Start-ups on Air" until 15th December 2021.
Participate on and find out more at:
The project Start-ups On Air promotes the development of new and innovative media formats on business topics such as the start-up scene, emerging markets or opportunities and obstacles that young entrepreneurs face. It herewith tackles the lack of media productions for a growing number of entrepreneurs of all sectors, founders and people with an interest in business and economic development. 
Start-ups on Air seeks to facilitate the creation of media formats which are informative as well as entertaining and which really meet the interests and aspirations of a new generation of young entrepreneurs and founders! We believe that media can inspire and encourage young people to create what their societies need and to realize their dreams!
At the virtual Start-ups on Air conference in November 12th to 14th we will bring together media professionals, business experts and young entrepreneurs for the development of new formats. We will provide spaces for creative exchange and the development of ideas under the guidance of experienced DWA trainers. Further online activities will offer occasions for networking, exchange and mutual learning among the participants as well as international and local investors.
Participants will have the opportunity to register for a competition and submit their format ideas which will then be reviewed by a jury of experts.
What's in for you:
Prizes and a coaching program!
Frequently Asked Questions (FAQ)
You can participate if you are based in one of the project countries (Algeria, Tunisia, Lebanon Jordan) and if…
…you are a journalist who is interested in economic and business journalism.
…you are an entrepreneur or you are planning to set up your own business.
…you are interested in economy and business news as a media user and want to contribute to the development of innovative formats.
The Conference will take place from from 27 to 28 November. Please follow the link on the "Registration"-section of this website to register.
To ensure journalistic independence, only journalists and media professionals can submit their format ideas and take part in the competition. Behind every proposal there must be a media outlet, an independent journalist or a media organization. If you aren't sure if you can participate don't hesitate to get in touch. There will be 4 prizes, one for each country in the form of prize money (1500 €). In addition, one overall winning team will receive a production support of 15.000,- € to realize their idea in 2022. In order to develop a prototype a consultant will be at their disposal. To participate you need to submit your proposal after the conference. Your submission needs to comply with the formal requirements listed below (9.).
As an entrepreneur you will get the chance to take part in a coaching program in 2022. You will get trained in marketing and storytelling by experienced DW Akademie trainers. This coaching will be offered to all entrepreneurs who have participated in the IdeaLabs of the conference and thus contributed to the development of new media formats. It is possible to discuss the coaching in advance and adapt it to your needs and interests.
The coaching for entrepreneurs will take place in 2022.
The ideas should be developed before, during and after the conference. The IdeaLabs at the conference will offer space to develop and discuss the ideas. Of course it is very helpful, if you already have an idea in mind and can present it at the workshops.
The competition will take place in December 2021, right after the conference "Start-ups on Air". Please follow the link on the "Competition"-section of this website. It will lead you to our competition platform Untab where you can register.
You need to submit your format proposal via our competition platform Untab.
It needs to include a video with a pitch about the format idea as well as a written concept including budget and timeline, a description of the final product, the implementation phase and the exact target audience.
You can only submit one application with one idea in Arabic or English.
Our jury will evaluate the ideas according to the following criteria:
– Feasibility within planned budget and timeframe until 2022
– Financial sustainability
– Consideration of the needs and interests of the target group
– Innovative approach / innovation
– Entertainment value
– Adaptation to the media market of the respective target country